Buying Running Shoes
Buying Running Shoes
We see a diverse group of patients at Rockingham Podiatry from casual exercisers to serious runners. No matter the level of activity, suitable and correctly fitting footwear is essential. Good footwear promotes successful sporting performance, can help prevent injury and make participation more enjoyable. But choosing the right shoes can be challenging.
Running shoe companies have created some confusion amongst athletes when they go to buy shoes. These companies try to differentiate their products and brand in the marketplace, often by using  fancy terms and confusing language. When people go to buy shoes they are often unsure of what is best for their feet.
Incorrect style of shoe for a set activity, poor fitting of shoes and wearing shoes that are worn out are common factors in contributing to injury. At Rockingham Podiatry we  are focused on treating feet and lower limb injuries. Having a sound understanding of the different types of footwear is very important. Frequently the first simple step we take to rehabilitate a sports injury is to assess footwear and make changes where necessary.
What To Look For In A Good Shoe.
Firm and deep heel counter. The back of the shoe needs to be firm to cup the heel and  reduce excess rolling movement of the heel. Depth prevents heel slippage up and down.
Secure closing mechanism. Velcro has become popular, but laces still are the most effective. Lacing allows for custom adjustment to meet the needs of each individual foots  size and  shape. Good lacing also helps prevent heel slippage. There are certain lacing techniques  (eg heel lock ), to address individual foot issues
Correct width. This appears obvious. There are fractional fitting shoes to accommodate variances in width. The feet of distance runners may swell as they spend longer on their feet. When purchasing footwear, distance runners may  require  a larger size than normal.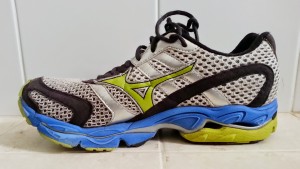 Traditional running shoes
These are the most popular sort of shoes used for sport and running. There are different types of these traditional running shoes and they are classified slightly differently by each  running shoe company.They usually have a thick, cushioned heel which is designed to absorb weight as the heel strikes the ground. These shoes usually accommodate orthoses and additional insoles easily.
The heel is also raised ( on average about 12mm ) in relation to the forefoot. This is like  the heel of a normal shoe. This heel raise takes some strain off the achilles tendon and calf. The heel area of theses shoes is usually fairly chunky and is sometimes fairly heavy.
One group of shoes may be considered to provide stability or control motion. These are often a firmly structured shoe, sometimes with a full, plank like sole. They are often used for feet that excessively pronate  ( roll inwards ). They may be helpful for heavier athletes.
Another group of shoes may be considered as being neutral. They have less structure and tend to be more flexible and lightweight. A large majority of the population will find these shoes are suitable for their feet.
Minimalist shoes
In recent times a new category of running footwear has developed in response to the barefoot running craze. Whilst these shoes have their place, they also have the potential to create injuries. The main running injuries we see associated with these type of shoes involve the Achilles tendon and the calf muscles.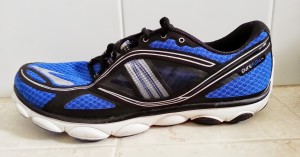 If coming from traditional running shoes it is important to have a period of transition. Minimalist shoes have a reduced or no heel raise ( zero drop ),  which therefore puts more strain on the calf muscles. I find that these shoes are very similar to racing flats. They are  useful for speed work as they are very light and comfortable to wear.
Court shoes
People often by this type of shoe and use them for a wide range of sporting activity. The toe area is more reinforced and these shoes tend to be more durable. They are good for court sports and general purpose. They should not be considered for more than small amounts of running as they usually have less cushioning.
Putting in some thought and time when buying athletic footwear is well worth the effort. If an athlete has been happy with the certain brand, it is often worthwhile sticking with this brand for the same type of shoe. People often prefer a certain brand for a certain activity. As mentioned, a correct fit is essential.