Heel Pain Child
Children present at Rockingham Podiatry with various foot and leg problems. One of the most common complaints we see are children who are suffering with heel pain. Sometimes parents are told that their children just have growing pains. They are often advised for the children to rest and cease playing sport, which can be particularly restrictive for kids who are active. In many cases the children still have symptoms despite not playing any sport.
A very common presenting cause of heel pain in children is Sever's Disease. Other reasons for heel pain can be Achilles Tendinitis, Bursitis and Plantar Fasciitis.
 Sever's Disease 
This is a common cause of heel pain in children between the ages of 9 and 13, especially in children that are physically active. We have noticed that it is particularly prevalent in boys, with a strong association with the football codes and jumping sports like basketball. Children eventually grow through Sever's, but this may take over two years and can be very painful along the way. Many children we see have been told to " just rest " but this is impractical for children and we find that with treatment we can usually keep kids active and enjoying their sport.
The medical term for Sever's Disease is calcaneal apophysitis. The calcaneus ( heel bone ) goes through a growth spurt around puberty. The growth plate in the heel bone becomes inflamed and is aggravated by activity. This condition is also influenced by the growing legs, as the Achilles tendon attaches to the back of the heel bone, pulling apart the growth plate.  
The symptoms of Sever's is pain around the heel, which is often severe. Pain often occurs during sport, but in some children is worse after activity. The pain may cause them to hobble or walk on their toes. The heel bone can be tender to palpate. There is sometimes calf tightness or stiffness in the morning.
Fortunately Sever's Disease does not cause any long-term problems. Treatment concentrates on reducing the traction on the inflamed growing bone. In most cases we can reduce the pain and keep the patient active and playing sport. Treatment involves looking at footwear, gait analysis and possibly the use of in shoe orthotics or insoles.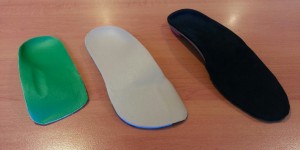 Orthotic Samples
If your child is suffering from heel pain you can book online or  contact us at Rockingham Podiatry by phoning us on 9592 1068. Our experienced Podiatrists can help settle down your child's pain and keep them active. For your first consultation please bring in footwear used for sport, as well as day-to-day shoes.